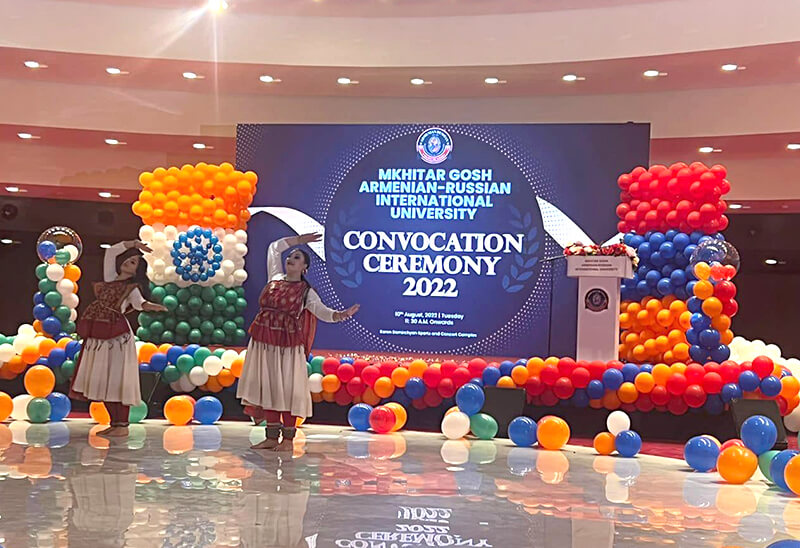 ARIU Celebrates the Convocation Ceremony 2022
Mkhitar Gosh Armenian Russian International University recently conducted a grand ceremony to celebrate the graduation of its medical students. The convocation ceremony 2022 was a studded affair with the warm presence of several chief dignitaries.
The ceremony was conducted on 10th August 2022 at the Karen Demirchyan Sports & Concert Complex with much grandeur. The event also honoured Mr Hayk Mkrtich Derdzyan (1945-2020), founder of Mkhitar Gosh Russian American International University.
The event witnessed the charismatic presence of H.E. K.D. Dewal, Ambassador of India to Armenia & Georgia, H.E. Abbas Badakhshan Zohouri, Ambassador of Iran to Armenia and Mr Mohammad Fallah Salookalee, Iranian Supreme Leader's Representation to Armenia, who bestowed their good wishes to the graduating students for their future.
The event was also attended by Dr Vijay R. Shah, Professor & Head, Forensic Medicine Department, Medical College at Bharuch. The event also featured several faculty members of the university, Mr Derdzyan Gor Hayk, Director of Economic Affairs; Dr Ashok Patel, Vice Chancellor, Mr S.L. Vardanyan, Pro-Rector; Dr Anahit Antonyan, Vice Rector; Dr Asken Khachatryan, Dean of Medical Faculty, ARIU; Naira Mkrtchyan, Head of Education Department; Manik Khechoyan, Assistant Director; Heghine Sahbazyan, Dean's Assistant, Methodist; Naira Ghazaryab, Vice Dean of Medical Faculty; and Dr Armen Astvatsatryan, Head of Department of Internal Diseases.
The ceremony was set in motion with a Red Carpet Event to welcome all the guests and students, followed by a press conference. Soon enough, the convocation ceremony began with immense grandeur. Several students and teachers shared fond memories. The students were finally awarded their hard-earned degree for which they had worked hard for the past 6 years.

The event concluded on a happy and joyful note, followed by a candid photo session and chatty lunch.