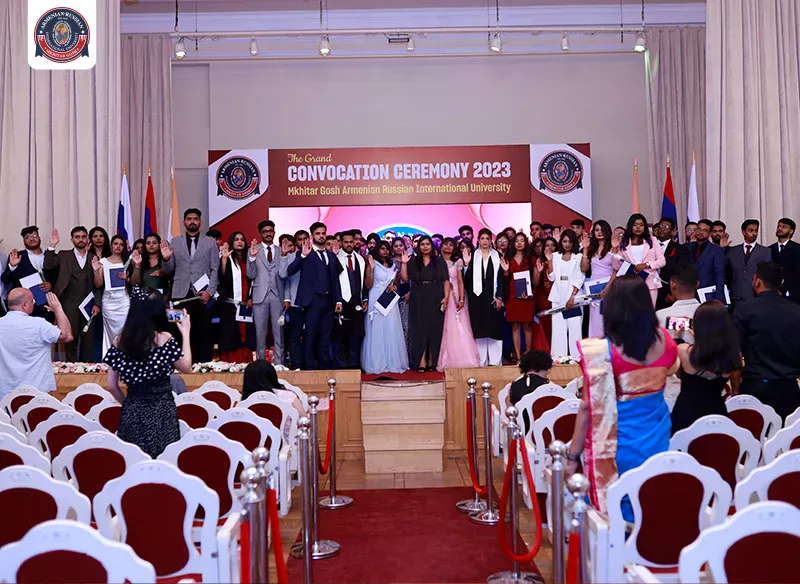 Convocation Ceremony - ARIU Graduating Batch 2023
A momentous occasion unfolded on August 07, 2023, as the graduating class of 2023 at Mkhitar Gosh Armenian-Russian International University achieved a significant milestone. These accomplished individuals are now equipped to embark on diverse medical careers across the world.
The event also held a special tribute to the late Mr. Hayk Mkrtich Derdzyan (1945-2020), whose visionary efforts led to the establishment of Mkhitar Gosh Russian American International University.
The gathering was graced by distinguished figures representing various fields. Notable attendees included Mr. Aditiya Kumar Pandey, Second Secretary of the Embassy of India in Armenia & Georgia, Dr. Faizan Imtiyaz Balawala, Rector of Mkhitar Gosh Armenian-Russian International University, and Dr. Anahit Antonyan, Vice Rector of Medical Specialties and Research at Mkhitar Gosh Armenian-Russian International University. Esteemed doctors and educators from the university also shared words of wisdom and encouragement with the newly graduated doctors.
Adding to the grandeur of the event, Indian Singer, Mr. Ramji Gulati lent his presence and offered motivating words to the graduating batch. He also performed on stage as a tribute to the graduating batch of 2023 encouraging them as they begin their journey as medical professionals.
On behalf of the graduating batch of 2023 of the Mkhitar Gosh Armenian-Russian International University, Valedictorian, Dr. Shreepriya, expressed her gratitude to the university, faculty, and loved ones for their unwavering support throughout their academic journey. She also reminisced about the invaluable experiences gained, the challenges overcome, and the lifelong friendships forged during their time of MBBS in Armenia at ARIU.
As the event concluded, ARIU extended heartfelt congratulations and best wishes to the Class of 2023 for their future endeavors. This celebration marks not only their academic achievement but also the promising path that lies ahead on their global medical journey.