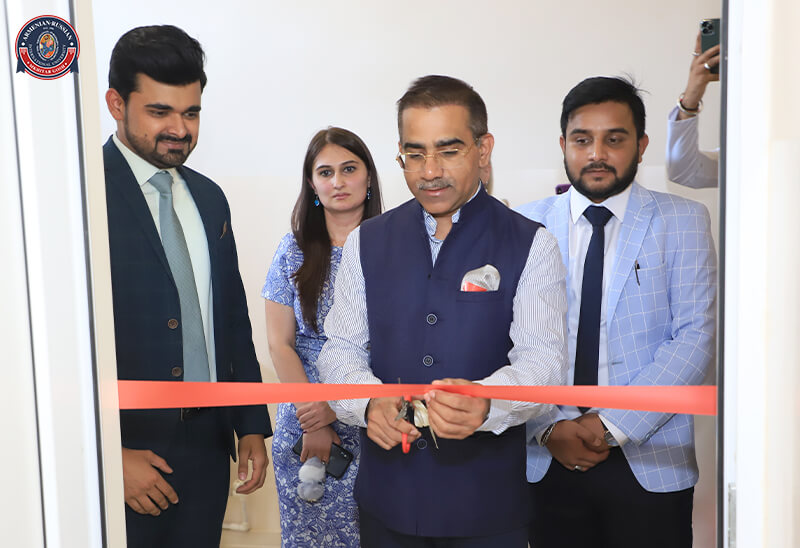 Mkhitar Gosh Armenian Russian International University Inaugurates 3 New Auditoriums
Mkhitar Gosh Armenian Russian International University has recently inaugurated 3 new auditoriums in its campus in Armenia. The university had earlier invited suggestions from the students for naming these auditoriums. After careful consideration, the university handpicked the suggestions and named the 3 auditoriums after- Late Hayk Mkrtich Derdzyan- Founder of ARIU, Swami Vivekananda- Indian scholar, philosopher & visionary of modern India and Amirdovlat Amasistsi- Renowned physician & writer of the 15th century, respectively.
The inauguration ceremony was conducted on 1st September 2022, at 14:30 (AMT). The chief guest of the event, H.E. K.D. Dewal, Ambassador of India to Armenia & Georgia raised the curtains for the new auditoriums.
The event was conducted on a grand scale. Dr Ashok Patel, Vice Chancellor welcomed his excellency with flower bouquets. Further, his highness also met with various faculty members- Dr Ananhit Antonyan, Vice-Rector, Dr. Ashken Khachatryan, Dean of Medical Faculty among others.
During the ceremony, his highness awarded the certification of appreciation to several students who have been actively involved in arranging various successful events at the university. We congratulate these students who have left their impressionable mark on the history of the university and made their student life inspiration for many. The list of the students who were awarded Kakde Anil Madhukar, Chaudhary Dhruvkumar, Waghmare Sharon, Mishra Ravikaran, Kumar Akshay, Sartabe Samrudhi, Savaliya Arpit Kumar, Gourav Sharma, Barad Mahesh, Vaidya Shubha, Kinake Hrushikesh, Abdulla Rafique, Vikram and Sanjhit.
Overall the event concluded on a successful note. The university has successfully made one more achievement for the students to explore and learn better.